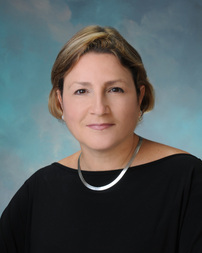 Attorney and Legal Counselor


María Elena Margarida, Esq.
is an employment and labor law counselor who has been providing clients with resourceful advice on how to analyze and implement well-thought legal decisions in the workplace.
María Elena represents claims arising from federal and local employment statues, complex employment litigation matters, public employment and civil rights litigation. She is actively engaged in representation before the Puerto Rico and Federal Courts, the Equal Employment Opportunity Commission, the Puerto Rico Department of Labor, the United States Department of Labor, and the National Labor Relations Board.
She has also advised management and human resources directors of multicultural, local and foreign corporations as well as government agencies, public corporations and municipalities of the Commonwealth of Puerto Rico.
Throughout the last 16 years she has offered employment seminars and been invited as a guest speaker on employment law and human resources management for professional, business and non-profit organizations.
Before establishing her private practice in 2006, Maria Elena gained extensive experience and a highly respected ethical reputation working at Puerto Rico's oldest employment and labor law firm.
Born in Madrid, Spain. Raised in New York and San Juan, PR.
Education: Juris Doctor, Inter American University Law School, 1999
B.B.A., Cum Laude; University of Puerto Rico, Inter American University
Editorial Staff of the Inter American University Law Review
Teaching Assistant, Inter American University Law School
Research Assistant, Inter American University Library
Admitted to practice before the Puerto Rico Supreme Court, the U.S. District Court for the District of Puerto Rico and the U.S. Court of Appeals.
Memberships: Puerto Rico Bar Association; American Bar Association; Association of Employment and Labor Professionals; Society for Human Relations Professionals; Puerto Rico Retailers Association.

Legal Advisor: Association of Managerial Employees of Public Buildings Authority; Puerto Rico Retailers Association; Government Development Bank (GDB).

Pro-Bono: Puerto Rico Retailers Association; Casa Protegida Julia de Burgos.
Guest Speaker at Inter American University, Sacred Heart University, University of Puerto Rico
Former Work Experience: Senior Copywriter, MFPW-J. Walter Thompson, 1986-1996
Law Clerk, Nachman, Guillemard & Rebollo, 1997-1999; Law Clerk, UIPR Law School 1998-1999
Associate, Lespier, Muñoz Noya & Rivera; Sánchez-Betances, Sifre & Muñoz Noya, 2000-2006
Margarida Franco Law Office, 2006
---